Saltan y Saltan
Look at the title. What does it mean? What do you think it is about? Don't cheat!!!
This selection is fun, but it does contain a few typo's. See if you can find them.
Vocabulario para «Saltan y saltan»
saltar
enanito
pajar
volver a (+ infinitivo)
bosque encantado
cansarse
quedarse
atrás (atrasadito)
enfermarse
irse
despacito
nomás (cuidado: es una expresión mexicana= only, just)
perderse (por el camino)
sentarse
pepino
pasmarse
dormido
tropezarse
(mal) herido
reina
boda

Ahora, lee la selección.
única pregunta: ¿Qué pasa al último enanito?
Actividad de escribir: Copy the illustraton below and paste it into a document. Print the document, and write captions for each picture based on the story- using the vocabulary from above, of course!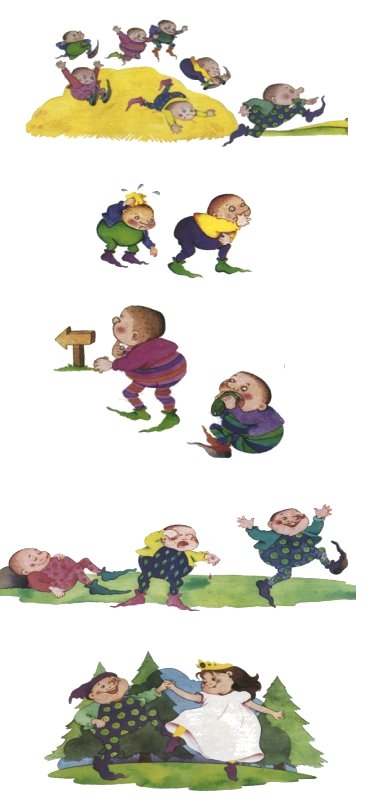 Para practicar más:
Work alone or with a partner(s). Create your own such story about a group of characters (Start with 10 so that you can employ lots of vocabulary.) that dwindles in size until only one remains. Be creative, and use reflexive constructions from the list below. Make some sort of surprise ending, such as the one in the reading. *Don't use "Saltan y saltan", but instead make up your own repetitive action. Ilustrate your work, publish it and make lots of money. (Publication and royalties not required for an "A").
Otras expresiones reflexivas
darse cuenta de que...to realize that...
darse prisa to hurry
hacerse daño to hurt oneself
caerse to fall down
comerse [+ food] to eat up, "gobble"
desmayarse to faint
negarse a [+infinitive] to refuse to ...
enamorarse de to fall in love with
tirarse to jump, throw oneself
acercarse a to approach, draw near to
alejarse de to leave, go away from
detenerse to stop, come to a halt
volcarse [o>ue] to get knocked over
cortarse to cut oneself
aburrirse to get bored
calamrse to calm down
marearse to get dizzy
sorprenderse to be surprised
enojarse, enfadarse to get angry
molestarse to get annoyed
ofenderse to get offended, insulted
preocuparse to worry
ponerse + condition [adjective of emotion or physical condition] to become...