La casita del caracol
Vocabulario útil para «La casita del caracol»
terreno
gusano (gusanito)
pedirles que le dejaran...(ask them to let him...)
hormiguero
hormiga
¿me dejarías...? (Would you let me...?)
te puedes quedar (=puedes quedarte)
prevenir [go]
espantado
estanque
agujero
ardilla
nido
duende (duendecillo)
vacío (vacías)
meter (mete- command)
caracol
También, contesta las preguntas siguientes:
¿Qué le faltaba al gusanito?
¿Qué decidió hacer?
¿Con qué animales habló?
¿Por qué no se quedó con ningunos de ellos?
¿Qué es su «casa» al final?

Ahora, copia la ilustración que sigue y ponla en un documento. Escribe el nombre del lugar, y también el de los animales que viven allí.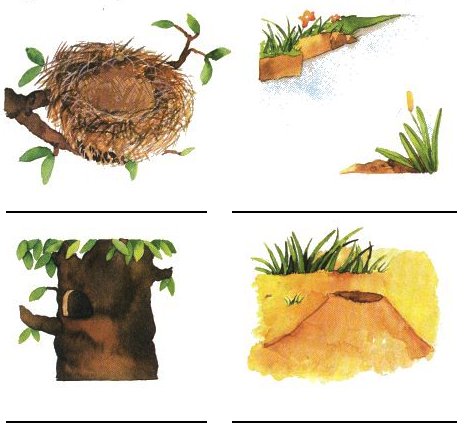 ¡Vamos a escribir!
What is the purpose of creating stories such as this one? What do they explain? Are they scientific? Work alone or with a partner(s) and create a story such as this one that explains some natural phenomonon about an animal. (Why the giraffe has a long neck, the elephant a trunk, why birds fly, etc.) Notice once again that he imperfect set the stage, and the preterite told the actions.